Mike Jones
Managing Director
Mike's 40 year career spans across International Hotel Brands and Independent Hotels and Resorts. Mike brings in-depth specialist knowledge of Operational Management to his leadership role with TOPMAN. Commencing with Hilton Hotels in Hong Kong, Mike has played an integral role in the pre-opening teams for the Parmelia Hilton in Perth, as well as 'Observation City Resort Hotel' on Perth's Sunset Coast for Bond Corporation.
As Group General Manager for the Japanese development company Daikyo, Mike was instrumental in establishing the Queensland based Tourism Group, 'Daikyo Hotels, Resorts & Cruises', which became the leading recipient of Japanese inbound business for the whole of Australia.
Mike's responsibilities included a portfolio of diverse tourism products including;
Gold Coast International Hotel, Cairns International Hotel, Matson Resort Cairns, Green Island Resort, Fritzroy Island, Paradise Palms Golf Course, Palm Meadows Golf Course and Great Adventures Cruises. The successful integration of each of these business units resulted in a highly recognisable brand and sustained profitability for the Owners.
Well versed in Owner Reporting, Mike has also provided services as Owner Representative for the Christchurch Parkroyal in New Zealand, the Brisbane Sheraton Hotel and the Cairns Hilton International.
Under the Tourism Operational Management banner Mike was contracted to operate and manage CP1 Hotels, a City Pacific joint venture with the Raptis Group; assets included the Gold Coast International Hotel and Paradise Resort, Surfers Paradise. As well under TOPMAN Mike has provided Operational Consultancy Services to Wirrina Cove in South Australia, a fully integrated resort and residential development.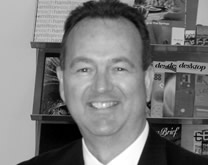 John McFadden
Director
With broad based expertise across Operations and Sales and Marketing, John brings over 20 years' experience in Hotels and Resorts to Tourism Operational Management.
Having held the Executive Management positions of General Manager and Director of Sales and Marketing with Independent Resorts as well as International Hotel companies including Accor, Rydges Hotels, Daikyo Hotels and Resorts and CP1 Hotels, John has in depth knowledge of Operational imperatives and creative consumer appeal.
As Director of Sales and Marketing John has developed and delivered strategic and tactical sales campaigns with a key focus on Revenue and Yield Management and Market Mix engineering, as well as successfully implementing Brand Transformation strategies for Hotels and Resorts in Australia and the South Pacific, including the formulation of on-line marketing strategies as well as Digital Communications.
Operationally, for TOPMAN, John has held the position of General Manager specialising in Rebrand, Repositioning and Turn Around with proven Financial Results for owners of Independent Resorts including Whitsunday Apartments, Hamilton Island and the Fiji Hideaway Resort and Spa as well as providing Sales and Marketing Management Services to Wirrina Cove in South Australia, a fully integrated resort and residential development, as well as the Gold Coast International Hotel and Paradise Resort for CP1 Hotels.
Regis Amalraj
Chief Financial Officer
As a Fellow of the Institute of Public Accountants Australia, and an affiliate Fellow of the Institute of Financial Accountants in the United Kingdom as well as a member of the Institute of Company Directors Australia, Regis has a wealth of Hospitality Finance Management experience; ranging from International Hotel chains including Marriott Hotels and Resorts through to boutique Island Resorts commencing with Taj Maldives in 1994.
As Finance Manager, Regis was part of the pre-opening team for Singapore Airlines (SATS) first joint venture Hotel with the Maldives Government, opening the Hulhule Island Airport Hotel. The role saw Regis developing the Hotel Operating Systems and Manuals and successfully achieving ISO 9001:2000 standard for the Hotel.
After moving to Australia in 2006 Regis took up the position of Director of Finance for Courtyard by Marriott based in Sydney, with key focus on the Management of Finance Operations and the integration of shared services operations for Marriott International Australia.
Under the banner of Tourism Operational Management Regis headed up the Finance Operations of CP1 Hotels, assets included the Gold Coast International Hotel (GCI) and Paradise Resort Gold Coast. During this time Regis was instrumental in initiating the sales process on behalf of CP1 Hotels for the GCI Hotel, resulting in a successful sale in 2008.
Regis has also represented Tourism Operational Management as Finance Director for Wirrina Cove Resort, a fully integrated Resort development with Hotel, Marina, Golf Course and 1200 acre Residential development, on behalf BDO Australia.  A successful turnaround sale of the property was achieved in 2014.